Our Training Services are targeted to those organizations seeking a broad portfolio of integrated leadership training products and learning support crafted to meet their unique business challenges and opportunities.  These services are best suited for organizations committed to building both the training agenda and learning infrastructure required to embed new ways of thinking and behaving on the part of all leaders throughout their system.
Learning Consultation – We provide consulting assistance with strategic talent development, competency profiling, benchmarking, needs analysis, curriculum development, learning infrastructures, and training evaluation.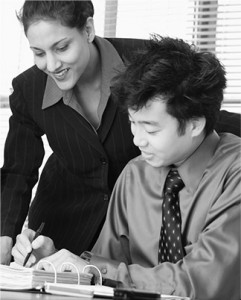 Instructional Design – We work with you to create learning objectives, course content, learning methods, classroom experiences, and participant materials needed to achieve your training goals.
Workshop Facilitation – We provide experienced, diverse, cross-industry, world-class trainers and facilitators, all of whom have senior leadership experience.
Materials Production – We provide the design, layout, graphics, formatting, language translation, printing, and assembly of training materials, including participant workbooks, job aids, slides, wall charts and instructor guides.
Logistics Management – For organizations needing to outsource training scheduling, registration, enrollments, staffing, inventory management, shipping and distribution, room reservations and event set-up.
Prepared Worshops – For organizations seeking generic ready-made leadership courses that require minimal customization, we offer the following programs:
Integral Leadership
Effective Communication
Team Effectiveness
Facilitating Change
Innovating Innovation
Leader as Coach
Dialogue: Meaning-filled and Impactful Conversations